Climbing house prices make people question if we're in another housing bubble
Are we in a housing bubble? Before I answer that question, let's unpack what IS a housing bubble.
If you remember what happened to the housing market of 2008, then you've experienced a bubble.
Mortgage lenders had made it super easy for borrowers with low credit and high risk of defaulting on loans to get mortgages. The catch—these people (referred to by the lenders as "subprime borrowers") were allowed to take out adjustable-rate mortgages that started out low and increased within two to three years, often changing month-to-month.
Large commercial investors bought these subprime loans in pools of mortgages known as mortgage-backed securities (MBS). Housing prices were rising, which was good news for homeowners and investors. But eventually by the fall of 2008, borrowers with subprime mortgages were defaulting at high rates.
Homeowners were upside down, meaning they owed more on their mortgage than their homes were worth. The housing and stock market collapsed and ushered in the Great Recession. The housing bubble popped.
What's different about today's housing market
As current housing prices shoot up to record highs, houses are selling within days with dozens of offers. I'm experiencing it firsthand—one of my recent listings received 58 offers in one weekend!
Many people are worried the same events of 2008 will unfold if prices continue to climb. While the housing market is insane right now, the good news is we are NOT in a housing bubble. Today's rise in prices is simply because of lack of supply.
How can a lack of supply cause such mayhem? With the pandemic ushering in a new economic recession, mortgage rates reached all-time lows. Would-be homeowners took advantage of the historically low mortgage rates in 2020.
The problem? The number of houses for sale also plummeted. Inventory is still down.
For March 2021, median days on market was down 46.7% meaning they were selling in 8 days!
Inventory was down to 1.6 months of unsold inventory. This indicator means that the current supply of homes on the market would only last 1.6 months! A healthy or balanced real estate market inventory would be 5-6 months. Anything less is a seller's market. Anything more is a buyer's market.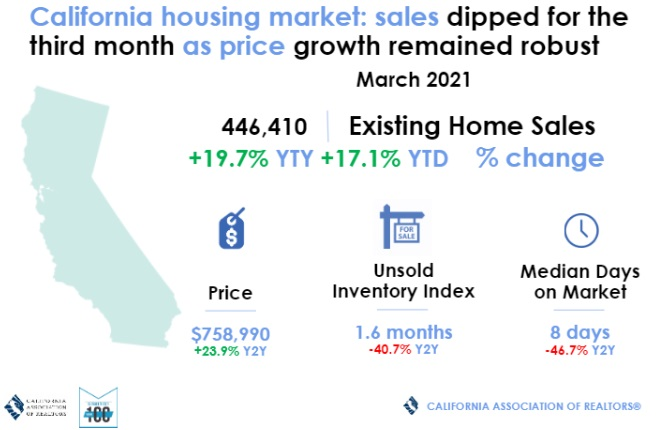 The bottom line—buyers want to take advantage of low mortgage rates but there simply is not enough houses on the market for everyone right now. The fierce competition has caused housing prices to sky rocket, which people offering sometimes $50K or more above the asking price.
"Today's prices feel unsustainable, today's frenzy feels unsustainable," said Ali Wolf, chief economist at building consultancy Zonda. "But that doesn't mean there's going to be a crash. That's bad news for a lot of shoppers who are hoping for prices to come down."
Buying or Selling? What to Do Next
We've definitely learned some lessons since the crash of 2008. Adjustable rate mortgages are no longer available, qualifications for loans have tightened, and loan amounts are more realistic.
So where do you go from here? If you're a buyer, stay strong. I know the competition is ugly and finding a home you love only to get outbid is disheartening. But if you stay the course with me as your Realtor, I guarantee we'll find you a home you love, get your offer accepted, with a mortgage that still falls within today's low rates.
If you're thinking of selling your home, now is a great time to cash in on your equity. It's not a matter of IF your house will sell, but on the terms that YOU want. Some sellers are listing their homes now and deciding to rent until house prices simmer down. Since we're not in a housing bubble, it is unlikely prices will fall any time soon. According to financial guru Dave Ramsey, "If you step out of the market, every day you wait to get back in, the prices are going back up the rest of your life. It's a good idea to sell and buy now."
As your Realtor, I recommend that if you sell now, then you should buy now, too.
Have questions about your next steps? Contact me any time for help.
—Melissa
951-741-8441
Melissa@kaleorealestate.com